A good day to try and quit.
MLC promoting new product as part of Great American Smokeout
Fremont Tribune, Fremont, Nebraska November 20, 1997
You've been wanting to stop, but just can't break the habit.
Today's the day many Americans can say no and change tobacco addiction permanently during the Great American Smokeout.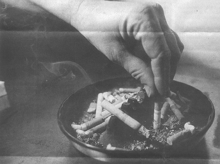 Midland Lutheran College is promoting a different kind of product this year for the event, one that may help those trying to break the nicotine addiction by providing something in place of regular tobacco products. Melinda Rasmussen, director of health services at Midland, said Mint Snuff is a relatively new product that can aid those who are trying to kick their habit.
"The biggest thing is that we're really taking a proactive stance against smoking and chewing, Rasmussen said. The product, made from mint, is a 100 percent food product, and is even safe if eaten or swallowed.
Rasmussen said that one of the most exciting qualities of the product for her is that it contains no tobacco or nicotine, and there are no age restrictions on purchasing it. "We're happy be give an alternative on campus be our students, she said. Minors can purchase this product because it is 100 percent food grade.
The product, produced by the Oregon Mint Snuff Co., now is available throughout the United States.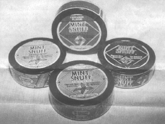 Rasmussen said the product has helped many people break their tobacco habits by helping them deal with the look and behavior of chewing. The snuff is available in four flavors: original mint, wintergreen, cinnamon and spearmint.
If you are presently a tobacco chewer, Mint Snuff can be used exactly like tobacco products. The moistness comes from Maltitol (a sugar-free solution derived from corn syrup that does not promote tooth decay) instead of honey or molasses. The juices are safe to swallow and the "dip" can be eaten or spit out.
Currently, the product is available at Amoco and KWIK Shop in Fremont. Both products retail for approximately $1.99 per can.
It's available throughout the United States and is past the testing stage, she said.
Also available are Mint Snuff Pouches which are miniature tea bags filled with mint and mint oil crystals. These are touted as a replacement for cigarettes and help freshen breath.
Rasmussen said the pouches are helpful for anyone who suffers from TMJ, a jaw disorder, who cannot chew gum.
No one knows they even have one in their mouth, she said. The pouches work for up to an hour and do not interfere with conversation and are not harmful to teeth or gums. It's also really good for a sore throat," Rasmussen said. Both products are in compliance with FDA rules and regulations.
She and Heather Ware, a senior nursing student, organized activities to promote the Great American Smokeout for the entire week, instead of just one day. We want to get a great product out into the community and help with health issues, she said.
... we're really taking a proactive stance against smoking and chewing. We're happy to give an alternative on campus to our students.,
Melinda Rasmussen MLC health services