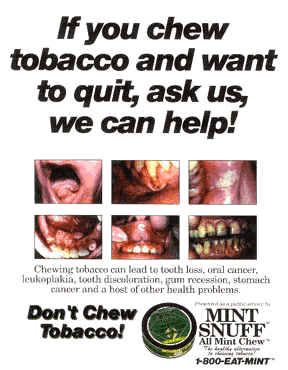 "If you chew tobacco and want to quit, ask us, we can help!"
A poster for the office or locker room that takes up very little space and gets a lot of attention. Its 8"x10" size fits conveniently on bulletin boards, walls and in operatories. It shows six photos of what effects smokeless tobacco has in the mouth. The poster is also available on cardstock with an easel back for standup displays. This poster is effective conversation-starter to help your patients or ball players quit tobacco.
Cost: $1 fee or 20 for $4. U.S. delivery-addresses only.
To obtain: Send $1 cash or check to: Oregon Mint Snuff Company, P.O. 9, Dept. DentalPoster, Tillamook, OR 97141 * 20 for $4.